2017/06/11
This article is about how to go to Shinjuku(新宿) from Haneda Airport International Terminal (羽田空港国際線ターミナル) by airport limousine bus.
Purchasing a ticket at bus ticket counter
Before you take a limousine bus from Haneda, you need to buy a boarding ticket in advance.
The price is 1240 JPY  (2000 JPY for late night bus).
When you arrived at Haneda Airport(HND) from overseas, you can find a bus ticket counter on the left hand.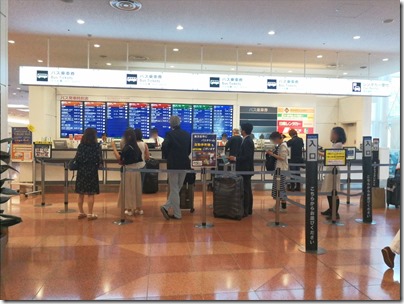 The staffs can speak English.
Both cash and credit card are available.
However they are often busy and you may need to queue in the long line…
Purchasing a ticket at ticket vending machines
If you don't like a queue, you can get it from ticket vending machines.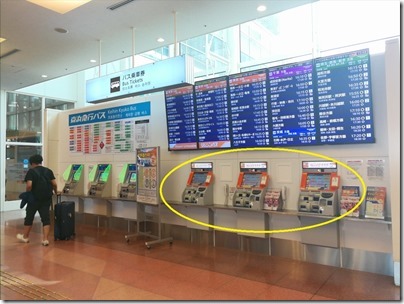 You can find bus ticket vending machines on the right side from the arrival gate.
The right 3 orange vending machines (Vending machines for Airport Limousine Bus) sell tickets for Shinjuku.
The left 3 blue vending machines (Vending machines for Keikyu Limousine Bus) don't sell them because they are the ones of other bus company .
Please notice that.
This is an initial screen of the orange vending machine.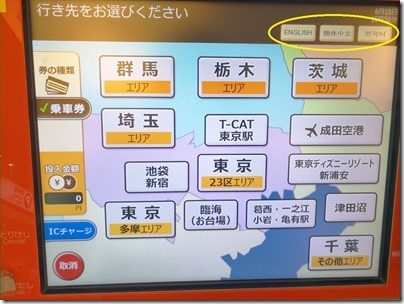 You can change language by touching buttons on the top-right corner.
English, Chinese and Korean instructions are available.
After we change language to English, the screen is shown as below.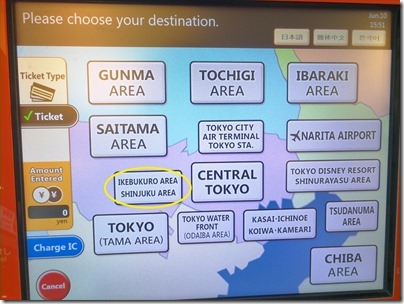 Please proceed to the next step by touching "SHINJUKU AREA" button.
And choose items following the instruction.
Some buses will stop at some major hotels near Shinjuku station (the hotel names are displayed on the screen when you select your destination. You can check the official website also). If you will stay these hotels and the departure time is acceptable for you, it is better to buy the ticket for them.
All limousine buses for Shinjuku(新宿) area will stop at "Shinjuku Station West Exit"(新宿駅西口) first and then "Shinjuku Expressway Bus Terminal (バスタ新宿 Basuta Shinjuku)".
If you are not sure which bus stop is nearest one to your hotel, I recommend to get off at "Shinjuku Station West Exit"(新宿駅西口) because it is almost center of Shinjuku city.
A boarding ticket
After you select your destination and pay money (credit card is also available), you can get 2 sheets of paper.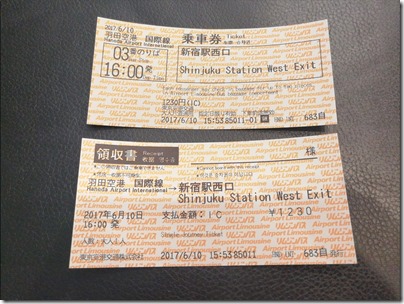 Upper one is a boarding ticket.
Lower one is a receipt.
This is a "receipt"(領収書 ryosyu-syo) for you (not a boarding ticket).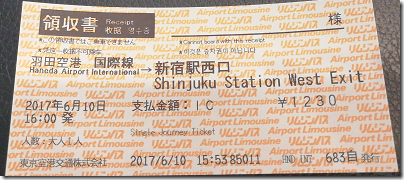 Keep this one for you.
Please do not pass this one to the staff.
This is a "Boarding ticket"(乗車券 josha-ken) for Shinjuku Station West Exit.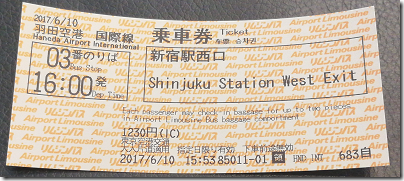 Please pass this ticket to a staff before boarding.
Please do not lose this one.
The below is an instruction of Japanese words printed on the ticket.(Click to enlarge)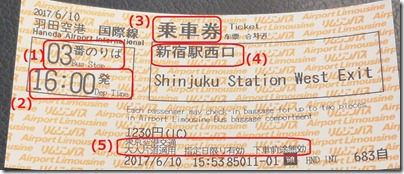 (1) "03番のりば" San-ban noriba
Bus Stop Number from which the bus depart.
Please proceed to this bus stop before the departure time.
"番 ban" means "Number".
"のりば noriba" means "A bus stop for boarding".
(2) "16:00発"  ju-roku-ji hatsu
Departure time is 16:00.
"発 hatsu" means "departure".
(3) "乗車券" Jou-sha-ken
A boarding ticket.
"乗 jou" means "Boarding".
"車 sha" means "Car".
"券 ken" means "Ticket".
(4) "新宿駅西口" Shnjuku-eki nishi-guchi
Shinjuku Station west exit (The destination of this ticket).
"新宿 Shinjuku" means "Shinjuku" a name of place.
"駅 eki" means "Station".
"西 nishi" means "West".
"口 guchi" means "Exit or Entrance".
(5) Service conditions
"東京空港交通" = Airport Transport Service Company Limited , The company name of the bus operator.
"大人片道適用" = Applied for one adult, one way.
"指定日限り有効" = Available on the printed day only.
"下車前途無効" = Once you get off, this ticket become invalid.
Proceed to the bus stop
After you get the boarding ticket, please proceed to the bus stop printed on the ticket.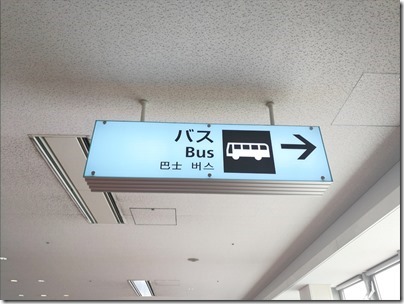 Please follow this "Bus " sign.
The bus stops are located on the ground floor.
You need to go down 1 level by elevator or escalator.
If you are not sure, please ask to the airport staffs.
In international terminal, Bus Stop No.3 is for Shinjuku(新宿).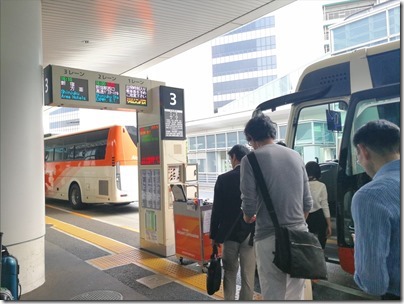 You can confirm the destination on the electric sign.
In the Airport company (Tokyo International Air Terminal, TIAT) website, we can see 360 degrees movie to bus stop.
It is very helpful to understand.
Please check it also.
Transportation Access from Arrival to Bus Stop (TIAT official website)
How to get on Airport Limousine Bus
You can store your baggage into the storage room.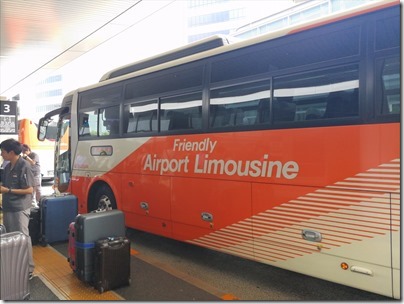 The bus staff will ask you whether you store your baggage or not.
If you ask to store it, show your boarding ticket to the staff to inform your destination.
Before boarding from the front door, please pass the "boarding ticket" to a staff.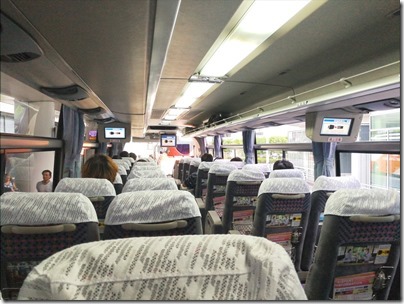 Then proceed into the bus.
You can sit down on a vacant seat (All seats are non-reserved seat).
The total number of sold tickets are limited within the number of seats (standing is prohibited).
So you can securely sit down.
English voice announcement is available inside the bus.
The next bus stop name is indicated in English on the overhead screen monitor.
Haneda International Terminal is the first bus stop.
After departure, passengers will be boarding at Domestic Terminal 1 and 2.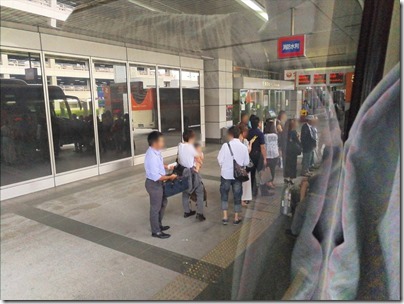 So please do not put your belongings on other seat.
It takes about 35~75 minutes from Haneda Airport to Shnjuku Station West Exit(新宿駅西口)  depending on trafic condition.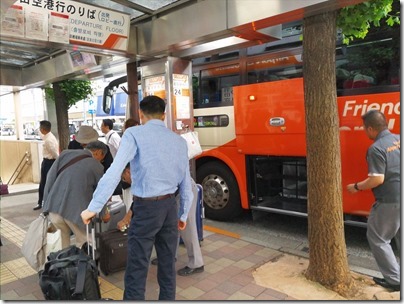 Please do not forget getting your baggage after getting off.
Please notice that if you go to Haneda Airport from Shinjuku, you need to take a bus at "Shinjuku Expressway Bus Terminal (バスタ新宿)".
Basically you can't board the bus for Haneda at Shinjuku Station West Exit (新宿駅西口) except for the bus departing at 23:20 and 23:40 (It is complicated…)
Location of Shinjuku Station West Exit (新宿駅西口) No.24

Location of Shinjuku Expressway Bus Terminal (バスタ新宿)

LINKS
Airport Limousine Bus Official site
Airport Limousine Bus (Haneda/Shinjuku Route)
If you are interested in a train trip from Haneda to Shinjuku, please refer to the below article.
Train Trip to Shinjuku Station from Haneda Airport
Have a nice trip !