Last update on 2016/03/05
"Natural Hot Spring Heiwajima(天然温泉 平和島)" located near Haneda Airport operates a free shuttle bus between the facility and airport at midnight.
It is a spa which opens for 24 hours and we can stay overnight there.
So I tried to stay at this spa and go to Haneda Airport by free shuttle bus at midnight to confirm it is comfortable or not.
Before that, we need to make a reservation by website.
"Flight Course" is a plan to go to Haneda Airport.
"Welcome Course" is a plan to come from Haneda Airport.
It costs 3500 JPY.
At this time I made a reservation of "Flight Course : departure time 7:10AM" in advance.
The day before going to Haneda Airport, I went to a bus stop No.6 at JR Omori station(JR大森駅) east exit(東口).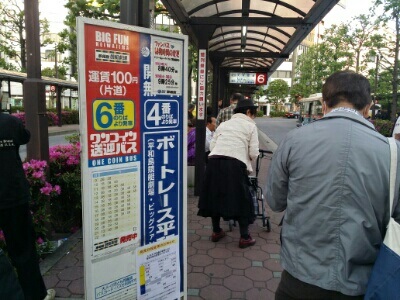 I got on a bus bound for "BIG FUN Heiwajima(ビッグファン平和島)".
"BIG FUN Heiwajima" is a kind of shopping mall which has "Heiwajima boat race", "Natural Hot Spring Heiwajima" and many restaurants and shops.
The buses depart every about 10 minutes and it costs 100 JPY.
Regarding the access to BIG FUN Heiwajima, please refer to the official website for more detail.
I boarded the bus with old men who like boat race.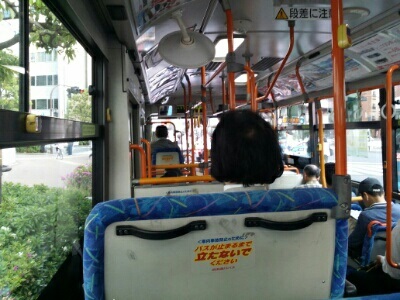 It may be crowded depending on boat race.
It is better to get this yellow ticket near the driver seat.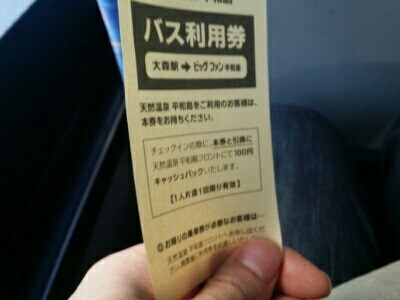 When you show this ticket to a staff at the front of "Natural Hot Spring Heiwajima", 100 JPY will be returned.
It takes about 10 minute from Omori station to the last stop "BIG FUN Heiwajima".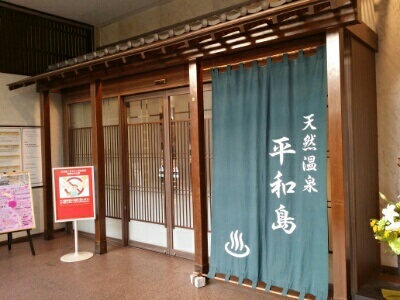 You can find "Natural Hot Spring Heiwajima" on the 2nd floor of "BIG FUN Heiwajima" building.
Taking a photo inside the hot spring is prohibited.
A brief instruction is the below:
Take off your shoes at the entrance and store them to shoes box.
Take a shoes box key and go to the front.
Check in at the front talking with a staff.
You need to pay an entrance fee  (3500 JPY) at checking in.
A staff can keep your luggage (A suitcase etc).
After checking in, you will receive a locker key and a bag in which a pair of wear and a towel are stored from a staff.
Go to a locker room (for men and women are separated).
You can use a locker box which has the same number of the key you received.
Take off all clothes and enjoy hot spring ! (swim suit is prohibited).
There are sauna, hot spring, shower and bath ,etc inside spa zone. For men and women are separated.
You can also enjoy a meal and beer (they are charged additionally) at restaurant using your locker key. (So you need to pay attention to your locker key !)
You can sleep on a reclining chair or in a sleeping zone.
However they are not private room, a snore from another person will annoy you. (It is better you bring a pair of ear plugs)
You can borrow a blanket from a staff for sleeping.
After you go sleeping, do not forget to wake up before departure time.
If you consume additional service (restaurant, massage etc) in the facility, you need to pay additional charge when you check out.
After checking out, I followed a driver to get on a free shuttle bus.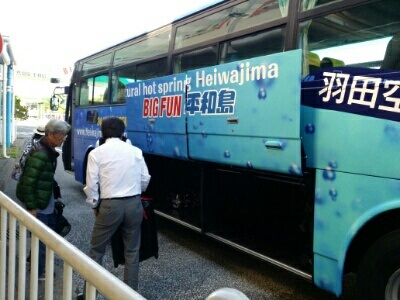 It is big enough.
Your baggage can be stored inside a cargo space.
The capacity of the bus is about 50 passengers.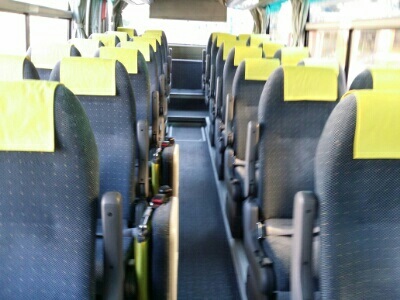 It takes about 15 minutes to Haneda Airport International Terminal if there is no traffic jam.
You can arrive at the airport directly.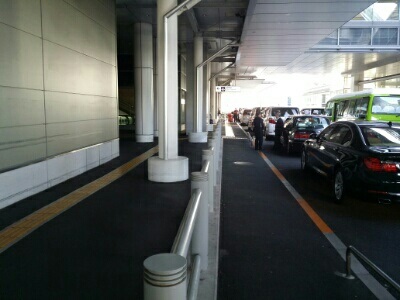 It is more comfortable than using trains since we don't need to carry a baggage by ourselves.
You need to climb up the escalator to arrival lobby.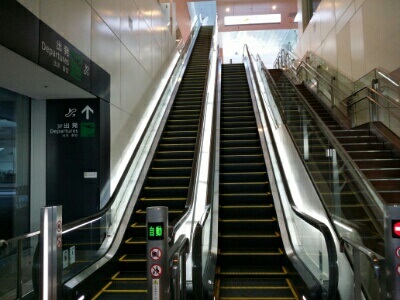 An elevator is also available.
Finally, I successfully arrived at departure lobby at Haneda International Terminal.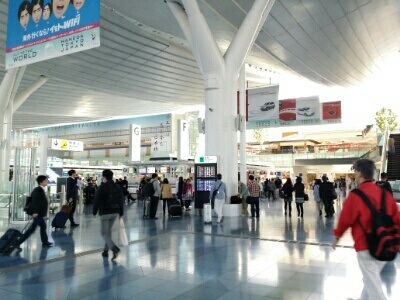 If you like Japanese hot spring culture and you want to save a cost to stay overnight before early morning flight, this selection may be reasonable.
Have a nice  trip !
Related links :
Natural Hot Spring Heiwajima (天然温泉平和島) main page
Reservation page for Welcome/Flight plan
Access to BIG FUN Heiwajima