2016/03/23
Late night limousine bus departing from Haneda Airport had been increased from 2015/10/25.
After this changing we can go to Oedo-onsen(大江戸温泉, hot spring spa "Oedo") even if we arrive at the airport late night.
Oedo-onsen opens 22 hours (from 11:00AM to 9:00AM  next day).
So staying there overnight, we can save money than a hotel.
In this page, I described a review of my stay at Oedo onsen.
2017/03/25 : Notice
From 2017/04/01, the operation route of Haneda late night bus has been changed.
You need to get on a late night bus for Toyosu-Ichinoe(豊洲 一之江) station (depart from Haneda at 1:25AM) to go to Oedo Onsen.
The late-night bus for Shinagawa(品川) described in this article does NOT stop at Oedo onsen from 2017/04/01.
Please be careful about it.
Around 10PM on 2015/11/05, I arrived at arrival lobby of Haneda Airport International Terminal.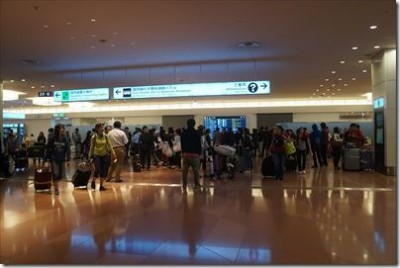 I came to the airport from my office after I finished my job.(this is not a return journey of my travel)
Only in order to investigate how we feel staying Oedo-onsen using midnight bus, I came here.
Haneda(Tokyo)  airport international terminal is smaller than Narita Airport.
It takes about 30-50 minutes from airplane to arrival lobby (depending on parking place of your airplane and crowdedness of immigration).
If you exit from arrival, you can see a bus ticket counter on the left hand.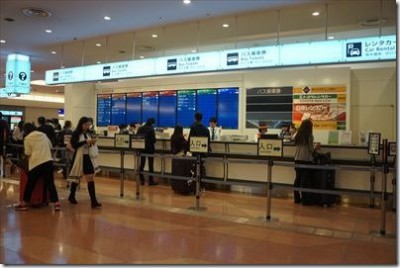 All staffs can speak English.
You need to purchase a ticket of late-night bus for Shinagawa(品川) to go to Oedo-onsen(大江戸温泉).
Late-night limousine bus for Shinagawa which departs from Haneda at 1:40AM and 2:15AM only stop at Oedo-onsen.
Other limousine bus which operates in daytime for Shinagawa doesn't stop at Oedo-onsen. Please be careful about it.
After 1:45AM.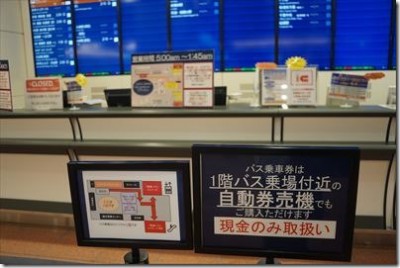 The bus ticket counter is closed from 1:45AM to 5:00AM.
You can buy a ticket from vending machine on the 1st floor near the bus stop during this period.
Only cash is available for the vending machine.
So it is better to exchange money to get Japanese Yen in advance.
This is the vending machine.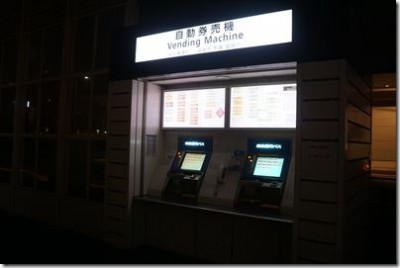 English instruction is available.
You can ask a staff around here to buy ticket.
This is the bus ticket I bought.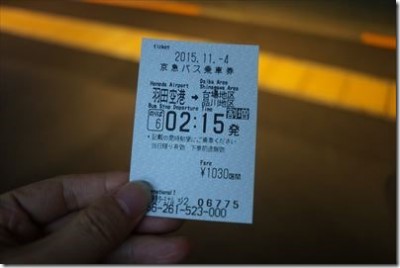 It costs 1030 JPY. (A midnight fee)
Please check Keikyu limousine bus official website for the latest information.
2:10AM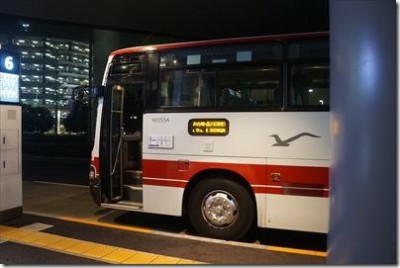 Midnight limousine bus for Shinagawa station via Daiba district came to bus stop No.6.
You can store your baggage into a cargo space inside the bus.
At this time, a passenger was only me…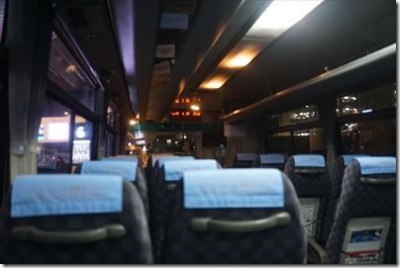 The bus started to carry only me on time (2:15AM).
When you get on the bus, you need to give the ticket to a driver and say "Oedo-Onsen" to inform your destination because it is not final stop.
The bus was running through midnight highways.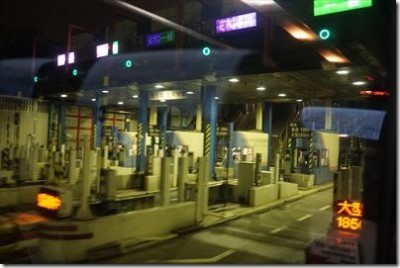 It took about 20 minutes from the airport to Oedo-onsen.
Very sleepy…
2:45 AM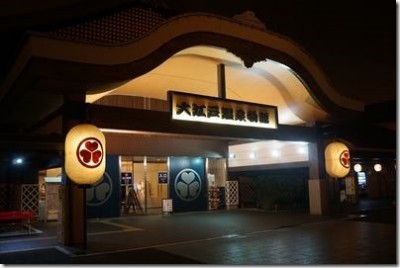 I arrived at Oedo-onsen.
We can get off just in front of the entrance.
Oedo-onsen(大江戸温泉) is one of the most famous hot spring in Tokyo.
When I got off, the bus driver gave me a special discount coupon of Oedo-onsen for limousine bus passengers.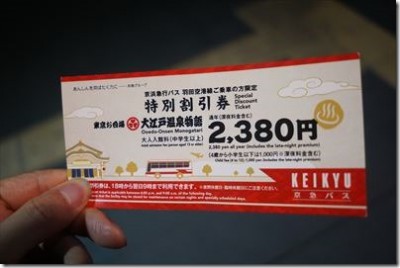 The entrance fee was discounted to 2380 JPY using this coupon.
Normally It costs 3980~4380 JPY without it.
Many thanks to driver !
Before onsen front counter, you can store your baggage to large locker.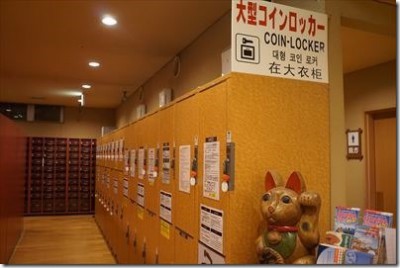 It costs 400 JPY / 1 locker.
After check-in at front counter, I selected clothes I like.
(Payment is needed at check-out)
We can choose Yukara (Japanese casual wear like Kimono) or Jinbei (Separated top and pants wear).
After I got clothes, I went to gentle man's locker room and changed my own clothes.
The hot spring bath is located at another place.
So please be careful not to exit with fully naked style.
Exiting locker room, I entered an entertainment space inside Oedo onsen facilities.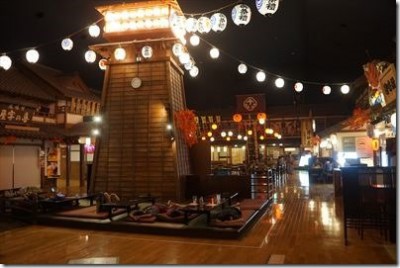 It was decorated with Japanese festival style (so called Matsuri).
We can find some Japanese restaurant.
However they will be closed until 3:00AM.
2:55AM
Before they were closed, I got a glass of beer and Tako-yaki !
(They are additionally charged)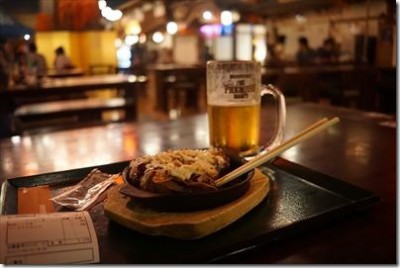 Even if all restaurant are closed, we can get drink, beer and light food from vending machine on the 2nd floor.
After midnight beer, I took a bath.
Gentleman's and lady's bath are completely separated.
You have to put off all clothes in locker room before bathroom.
There is a real natural hot spring including sodium chloride.
You can get warmer and It is more comfortable than normal bath.
Please be careful not to put your towel into the hot water.
Such a behavior is against Japanese manner because it may make the water dirty.
3:30AM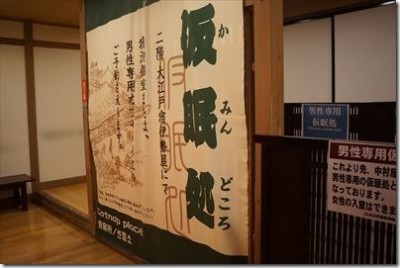 I got sleep in the sleeping room (仮眠処 kamin-dokoro) immediately.
There are many mats laid on Tatami.
You can also sleep on a reclining chair in the relaxation room on the 2nd floor if you can find a vacant seat (it was already full at that time).
There are no private space in the sleeping room and relaxation room.
Many gentlemen and ladies  sleep in one big room.
Snore from other guests may annoy you.
So it is recommended to bring your own ear plugs.
Sleeping room was closed at 7:00AM.
So I could sleep only for 3.5 hours…
8:00 AM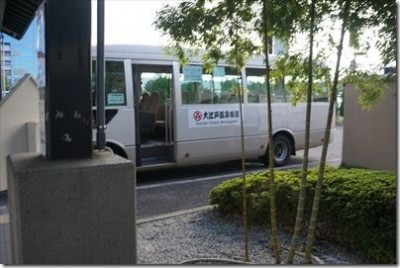 I paid entrance, food and drink fee when I checked out at front counter.
I got on a free shuttle bus to Tokyo Teleport station of Rinkai line and went home.
You can also walk to Telecom center station of Yurikamome line near Oedo onsen.
You may not sleep enough due to noise or short time to stay.
However I think it is reasonable selection to stay overnight here with lower price than hotel.
P.S.
Oedo onsen has a plan to send you to Haneda or Narita airport by free shuttle bus.
You need to make a reservation in advance to use these services.
Official website of Oedo-onsen is here (English site)
Have a nice trip !