2017/01/23
This is a review of IIJ mio's prepaid SIM card "Japan Travel SIM".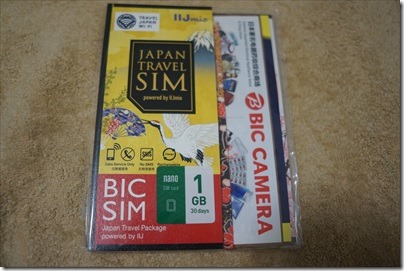 This prepaid SIM card can be got inside Haneda Airport International Terminal.
"Air BIC Camera" (2nd Floor, open for 7:00AM-10:00PM) and "Air Lawson" (1st Floor, open 24 hours) sell this SIM card.
"IIJ mio" is one of a brand name of Japanese MVNO (Mobile Virtual Network Operator).
This time, I got it at "Air BIC Camera" which is located on the 2nd floor (Arrival floor).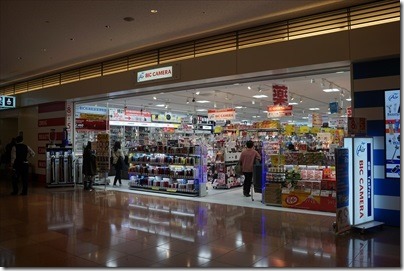 "BIC Camera" is one of the famous electronics retailer in Japan.
They sell not only cameras but also various things.
You can easily find the cards to buy SIM card package.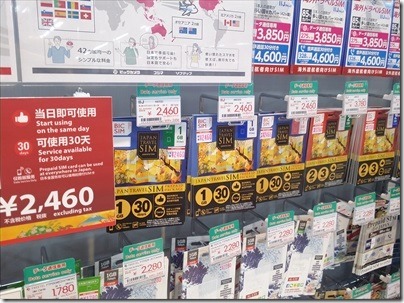 Bringing this card to a staff, you can buy its corresponding SIM card.
There are 3 size of SIM card (Normal, Micro, Nano).
Please be careful to choose the same size of SIM card as your mobile phone's.
In addition, there are 2 types of cards which has different validity period and data capacity.
1GB/30 days (2460 JPY + Tax 8%)
2GB/90 days (3780 JPY + Tax 8%)
I bought the one for 1GB/30 days, Nano SIM card.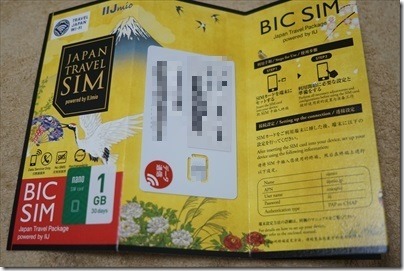 I can buy it without showing my ID, just paying money.
Severeal goods are included such as Origami (Japanese paper works).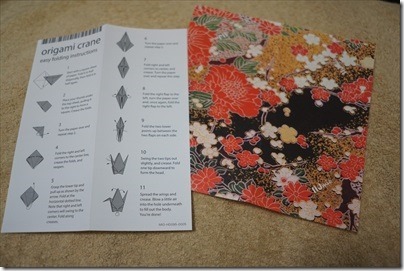 This is a just gift for you…
The other things are advertisement.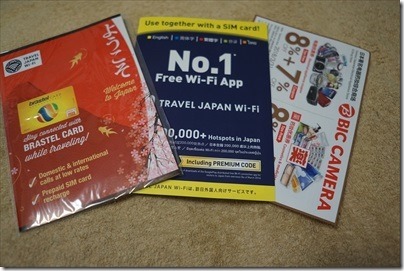 Let's focus on prepaid SIM card.
I removed the SIM card from the mount and set it into my SIM free Android mobile phone HUAWEI Mate9 (MHA-L29) purchased in Japan.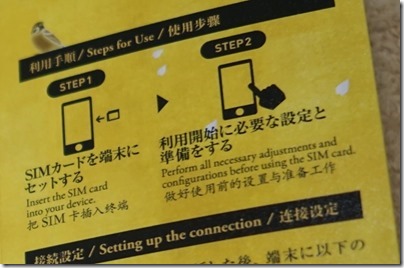 Then the APN is automtically set, and it started to communicate without any APN settings.
I think most of mobile phones which are got in oversees don't automatically set APN.
So you may need to set APN by yourself following the instruction included in the package.


The APN setting is below.
Name : iijmio
APN : iijmio.jp
User name : mio@iij
Password : iij
Authentication type : PAP or CHAP
You can also see the instruction manual in official website.
After that the mobile phone started to communicate.
But I could not see the website because it was not registered yet.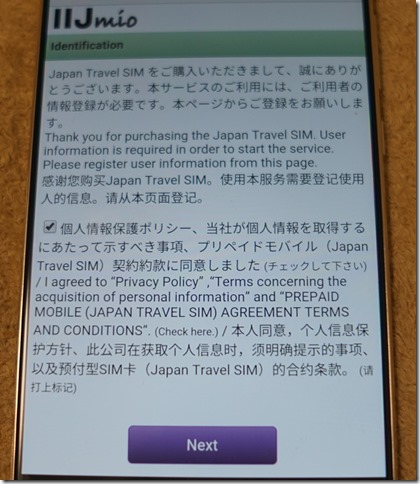 In order to activate the SIM card, we need to agree the security policy and register some personal information via website (http://iijm.io/t.ac).
Turn on the check box for security policy agreement and select "Next" button.
After accessing the website…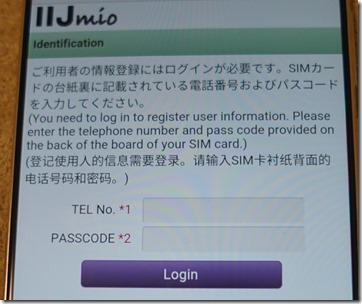 You need to input "TEL No" and "PASSCODE" to login.
They are printed on the mount of your SIM card.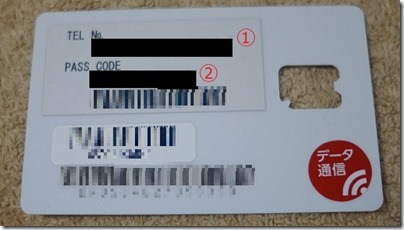 "1" is "TEL No" composed of 11 digits.
"2" is "PASS CODE" composed of 8 digits.
These two numbers are also required to confirm validity period and remaining data capacity.
So it is better to keep this card until you finish using this SIM card.
After that we can see the forms to input personal information.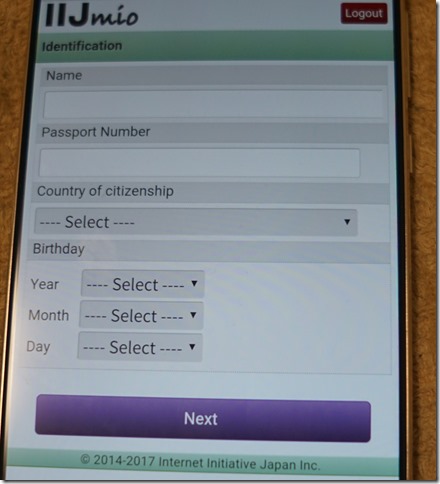 The required information are :
Your name
Your Passport Number
Your country
Your Birthday
After input these 4 information, I can successfuly connect to the internet !
You can check the validity period and remaining data amount via website (https://t.iijmio.jp/s/).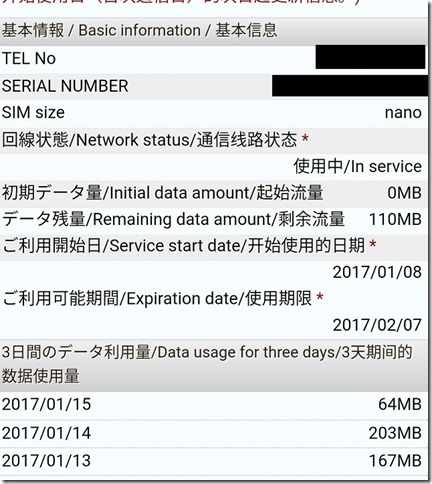 The support pages are described in Japanese, English and Chinese.
After I finished to consume 1GB, the following was displayed on the browser and the internet connection was disabled.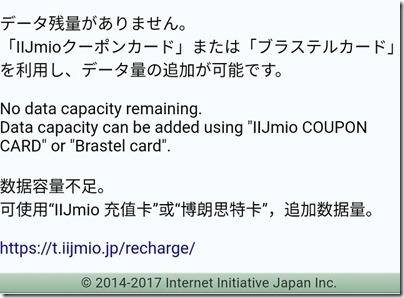 If you want to resume inter connection, you need to buy recharge boucher.
500MB : 1500 JPY + Tax 8%
2GB : 3000 JPY + Tax 8%
Please refer to the website for the details of the recharge process.
Regarding mobile network used by this SIM card.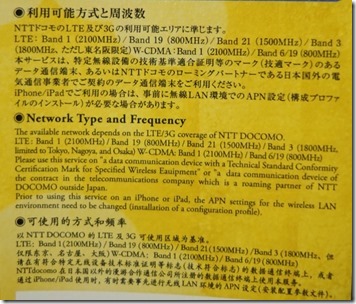 This SIM card uses NTT Docomo networks below:
LTE(4G) : Band 1 (2100MHz)
LTE(4G) : Band 19 (800MHz)
LTE(4G) : Band 21 (1500MHz)
LTE(4G) : Band 3 (1800MHz) limited to Tokyo, Nagoya and Osaka.
W-CDMA(3G) : Band 1 (2100MHz)
W-CDMA(3G) : Band 6/9 (800MHz)
Please make sure your device supports at least one of the above network.
I feel the setup is relatively easy.
We don't need to input complicated information such as address nor e-mail.
However it is not easier than U-mobile PREPAID DATA SIM which don't require any personal information.
Recently the data rate of smart phone is increasing, 1GB may be not enough for 30 days.
If you stay in Japan for long period (more than 1 week for example), it may be better to prepare a recharge coupon.
Have a nice trip!
***
Here are manuals included in the package (6 languages).
English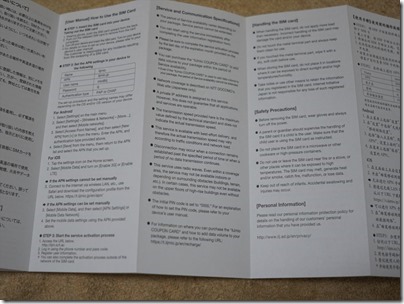 Chinese (簡体字)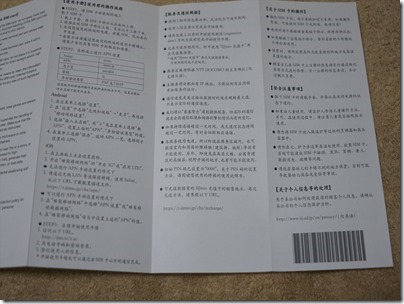 Chinese (繁体字)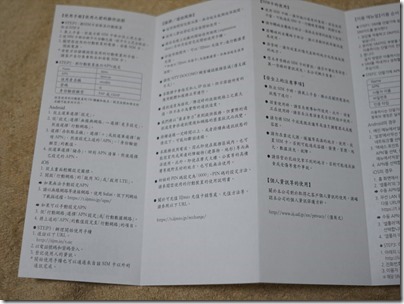 Korean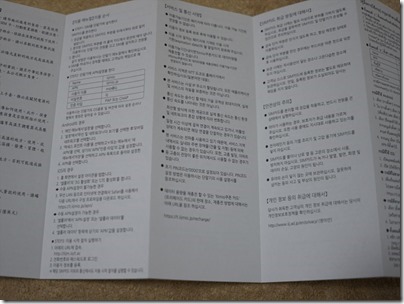 Tailand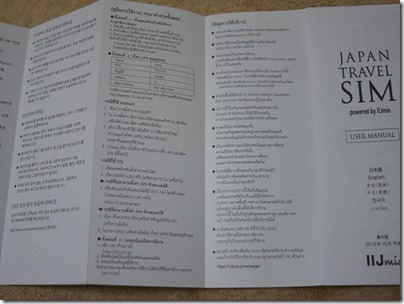 Japanese