2016/03/31
This article is a review about "FIRST CABIN" located inside Haneda Airport Terminal 1 (for JAL Domestic etc), which is a budget capsule hotel.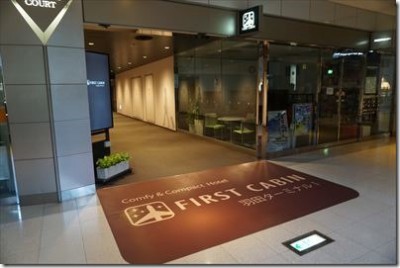 The entrance is located in public area on the 1st (ground) floor inside Domestic Terminal 1.
location
Haneda Airport Terminal 1 and 2 are only for domestic.


I : International Terminal
F: "FIRST CABIN" in Domestic Terminal 1
They are too far from International Terminal to go on foot.
You can go to Terminal 1 from International terminal by Airport Free Shuttle Bus which operates from 5:00AM to 0:00AM.
You can also go there by Keikyu Train or Monorail but they are charged.
At late-night (0:00AM to 5:00AM) you need to take a taxi…
FIRST CABIN was established on 2014/4/23 renovating the airport employee's area.
I tried to stay on 2014/4/24 after finishing my job in order to investigate how I feel to stay.
Reservation and Check-in
Hotel front lobby.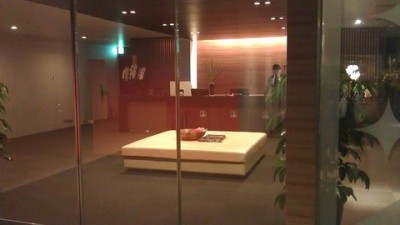 There are no window from which we can see airplanes, however the facility is very clean and modern.
I made a reservation by the website in advance.
There are 2 types of the room.
FIRST CLASS CABIN (Large room) : 6000 JPY / night
BUSINESS CLASS CABIN (Small room) : 5000 JPY / night
At that time I reserved FIRST CLASS CABIN.
After check in with payment at front counter, I received 3 items from a staff.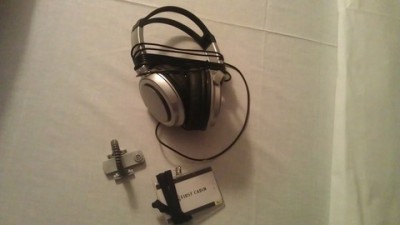 A card key to enter bedroom area.
A bracelet with a metal key to lock drawer under your bed.
A Headphone to watch TV
According to the staff, we can go out and enter the hotel freely at any time even after check-in.
Men's bedroom area and Women's are completely separated.
So we need to touch your card key to a sensor on the wall to enter your area.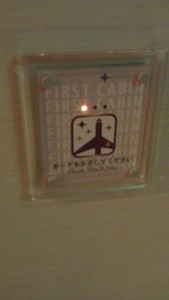 This is the sensor near the entrance of men's bedroom area.
If you forget your card key in your bedroom, you can never go back to your bedroom area.
You don't forget to bring your card key when you go out.  Be careful !
Bedroom area
I entered men's area.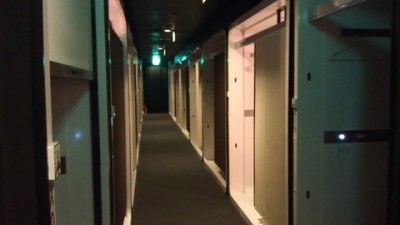 There are many "capsule" room just separated by curtain.
This facility belongs to a kind of "cheap accommodation".
It is not a "hotel".
So your private space can not be locked.
I think it is suitable for a single traveler or a passenger for business.
This is FIRST CLASS CABIN I stayed.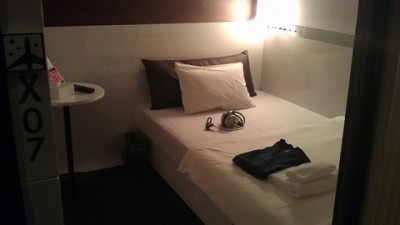 It was small but clean and had enough space to put my baggage.
I found a drawer under the bed.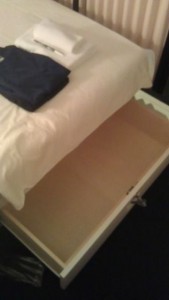 It can be locked by metal key attached at your bracelet.
We can store some valuable things such as a wallet, laptop PC, smartphone and so on.
It doesn't have big space enough to store a suitcase.
There is a large size flat TV.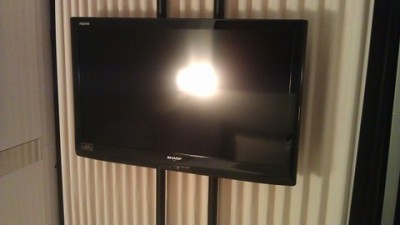 You can enjoy a TV program.
The audio can be heard using a headphone not to disturb other guests.
However we can watch Japanese broadcast only…
As I mentioned, this is a capsule hotel.
The separation is not enough.
So we supposed to hear many sounds from other guests such as snore and noise.
If you can't sleep, it is better to get ear plugs from a hotel staff.
There are two AC outlets, a switch for lights, a knob to control TV audio volume, and  a connector for headphone on the wall.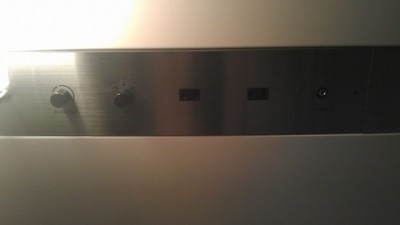 AC outlets are useful to charge your smartphone and laptop.
There are pajamas, small towel, big towel, and a set of toothbrush and toothpaste on the bed.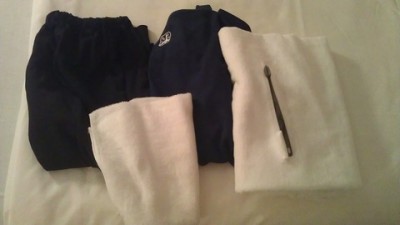 In addition, we can found a pair of slippers on the floor.
You can go out of the hotel wearing these pajamas if you are not embarrassed.
Facilities inside bedroom area
After I checked my personal space, I went to check other facilities inside men's area.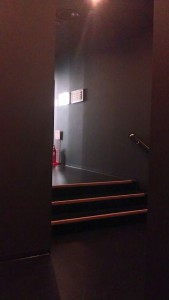 There are some steps and the structure inside men's area is complicated a little…
I found a laundromat machine.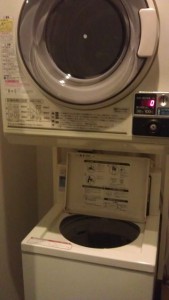 Washing machine : 200 JPY
Drying machine : 100 JPY / 30 minutes.
Toilets (for men)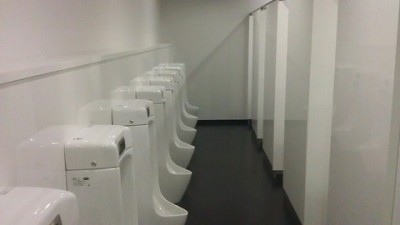 It is clean enough.
Washstands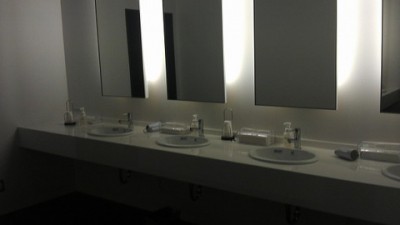 There are more than 10 washstands.
There are hairdryers and soaps.
Shavers are charged.
A dressing room in front of bathroom.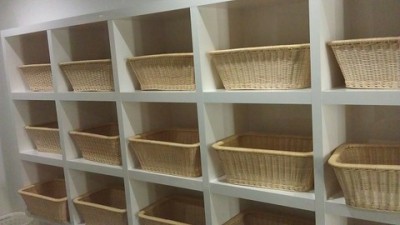 You need to put off all clothes here to take a bath.
There are no locker.
So it is better to store your valuables into the drawer in your room and bring your own bracelet key to take a bath.
There are 3 shower booth.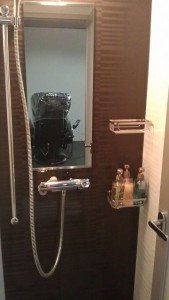 There are shampoo, body soap, and conditioner inside.
Bathroom
Bathtub in the bathroom.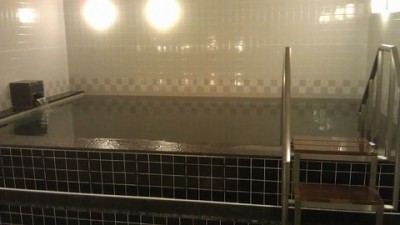 The bathtub is so big that about 8 persons can take a bath at the same time.
Washing place in the bathroom.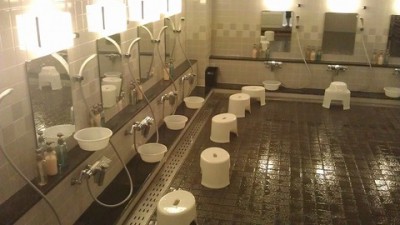 There are shampoo, body soap, and conditioner also.
Facilities outside bedroom area
There is a lounge outside bedroom area (next to hotel front counter)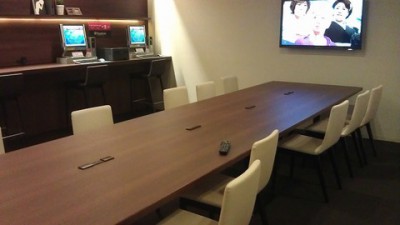 Both men and women can enter this lounge.
You can eat food and talk with your companion here.
There are several couches inside.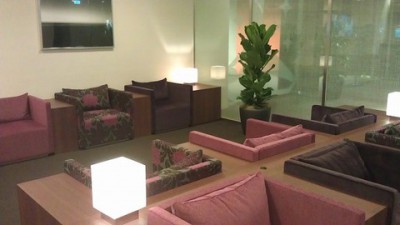 To make conversations inside bedroom may bother other guests.
So you should talk with your friend here.
Next to the lounge, there are some vending machines.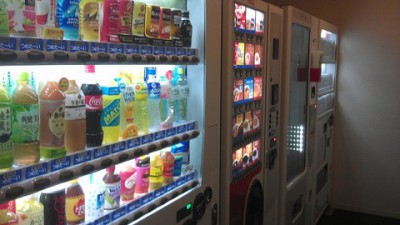 You can buy drinks, coffee, beer and light food such as instant noodles and Takoyaki.
Shops and restaurants in a neighborhood
There are some shops and restaurants near the capsule hotel.
I went to take dinner at food court on the 1st basement floor inside Airport Terminal 1.
"Ginza Bairin(銀座梅林)"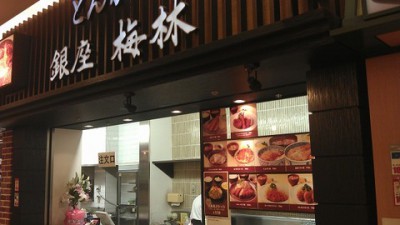 This is one of the famous "Ton-katsu (トンカツ , breaded pork cutlet)" restaurant.
I ate "Katsu-don(カツ丼)"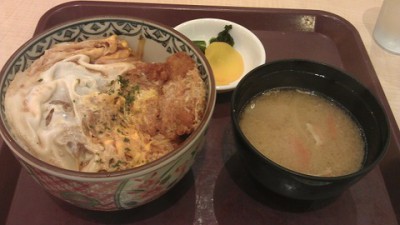 This is Japanese traditional food.
It costs 750 JPY.
This food court close at 21:00.
This restaurant "Azusa  (あずさ)" is a restaurant which open until 23:00 (Last order : 22:30).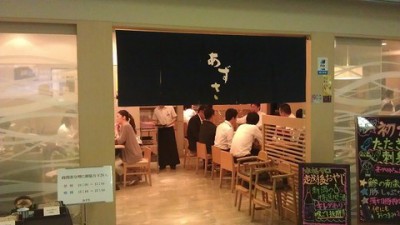 After 23:00 there no restaurant opens inside Terminal 1…
It is recommended to come to the airport at early time.
Convenience store "LOWSON" is also closed at 23:00 (as of 2012/04/24).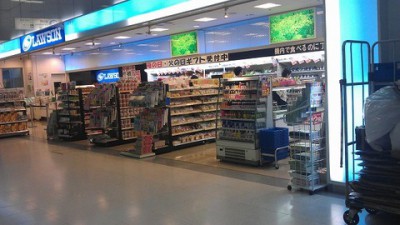 If you arrived at the capsule hotel in late night, you need to buy food and drink from a vending machine inside the hotel.
Different from International Terminal, Domestic Terminal doesn't open 24 hours.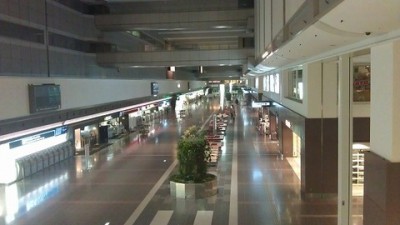 After 21:30PM, there are few people in departure lobby…
However the capsule hotel open 24 hours, of course.
I checked inside Terminal 1 and go back to the hotel.
But I didn't sleep well due to a snore from other guest…
Next morning.
I got up at 5:30AM.


Train and Monorail were already started to operate.
Free shuttle bus to international terminal start to operate from 5:00AM regularly.
Before 5:00AM, it departs from in front of the hotel at 3:55 and 4:25.
For more detail information, please refer to the following official website.
FIRST CABIN Haneda Airport Terminal 1 (English automatic translated site)
Have a nice trip!