Last updated on 2016/03/04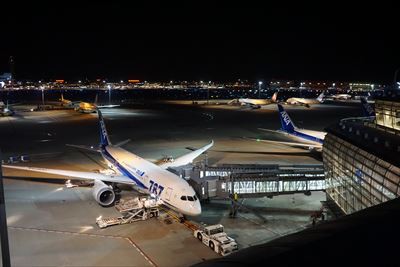 This article is described about how you should do if you arrive at Haneda (Tokyo International) Airport at midnight.
Recently a number of late night and early morning flight to Haneda is increasing.
However, public transportation (Keikyu-line and Monorail) in Tokyo is not operated in late night
So I'd like to explain how to deal with such a situation.
Stay overnight in Haneda Airport International Terminal
While Domestic Terminal 1 and 2 don't open for 24 hours, International Terminal itself opens for 24 hours.
So you can stay overnight in International Terminal until a first train start to operate.
Please go to the below page for more details.
Stay overnight in Haneda Airport International Terminal
Go to a spa near Haneda Airport and stay overnight
Go to Oedo-onsen(大江戸温泉) in Daiba(台場) district
Visit Oedo-onsen by midnight bus departing from Haneda Airport at 2:15AM
Go to Thermae-yu(テルマー湯) at Shinjuku(新宿)
Visit Thermae-yu Spa at Shinjuku by midnight bus departing from Haneda at 2:20AM
Reserve a hotel near Haneda Airport in advance
Regarding hotels near/inside Haneda Airport, please check the below page.
Hotels near/inside Haneda Airport