2016/05/25
In this page I'd like to introduce real Japanese "Ramen" noodle food court "Shinatatsu Haneda (品達羽田)" located on the 3rd floor (Departure floor) in Haneda Airport International Terminal.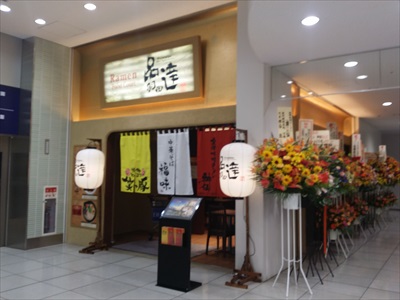 This is entrance of "Shinatatsu Haneda" located near Keikyu-line Haneda International Terminal station.
"Shinatatsu Haneda" was newly established on 2016/04/25.
There are three Ramen restaurants inside this food court.
You can enjoy various kinds of Ramen.
Shin-sen(神仙)
Miso-ramen(味噌ラーメン) 850 JPY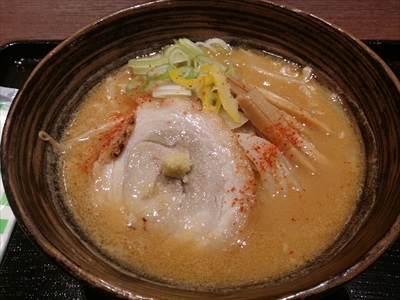 You can enjoy dense Miso flavor soup and topped pork.
This is my most favorite ramen in this food court.
Kara-Miso-Ramen (辛味噌ラーメン) 980 JPY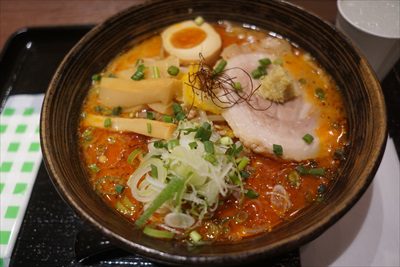 If you like spicy one, let's try this !
Miso-Tonkotsu Ramen(味噌とんこつラーメン) 900 JPY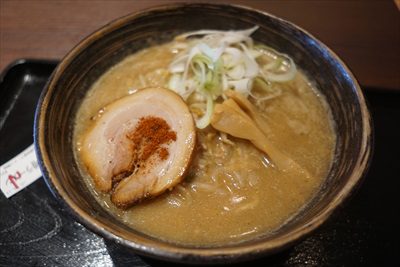 This tastes the middle flavor between Miso and Tonkothsu.
It feels milder than Miso Ramen.
Fuku-mi(福味)
"Fuku-mi" serves Shoyu-Ramen(醤油ラーメン) 850 JPY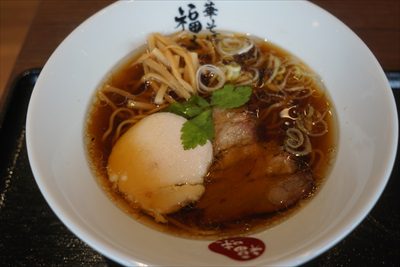 which is noodle in soy sauce flavor soup .
Shio-Ramen(塩ラーメン)  850 JPY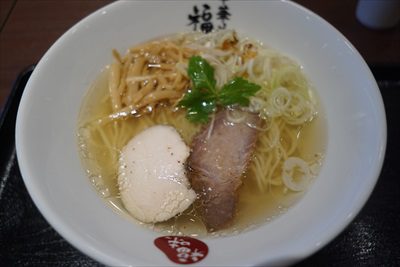 Ramen noodle in salty soup with pork.
Bai-tan Ramen (鶏白湯ラーメン) 850 JPY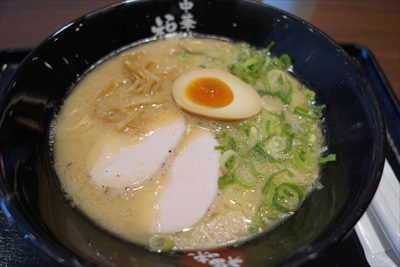 It is chicken-based creamy soup topped with chicken , boiled egg and some vegetable.
Warai-buta(笑い豚)
"Warai-buta" serves Tonkotsu-ramen(トンコツラーメン) 800 JPY which is ramen noodle with pig broth soup.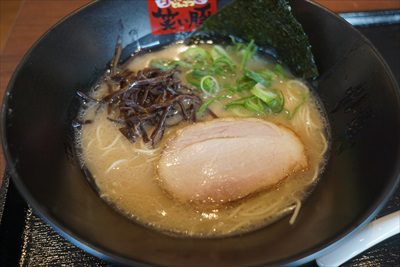 Tonkostsu Ramen is very popular for foreign visitors.
Dangdang-Men (担々麺) 950JPY  is also available.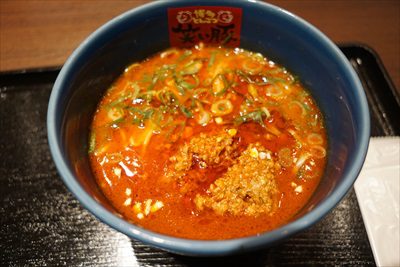 It is so spicy !
How to order
Each restaurant has a vending machine for food tickets.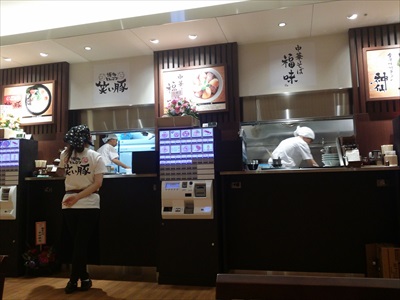 At first, you need to buy food tickets.
The ticket vending machine is as below.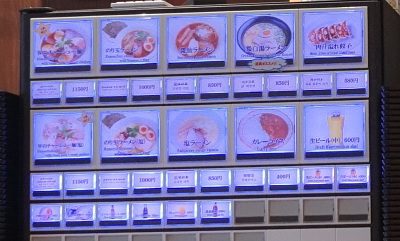 Each menu has a photo.
English name is also indicated.
Japanese beer and side dishes are also available.
After you insert Japanese money, you can punch the button to get a ticket.
Then a restaurant staff will ask you to pass the ticket to him/her.
So it is very easy for foreigner to order Ramen.
After you order, the staff will give you an alarm.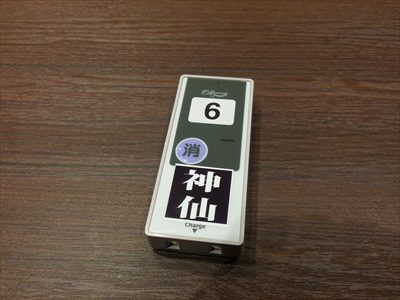 Sit down your seat and wait for your Ramen.
When it rings and vibrates, please go to the counter to get your Ramen.
Location
Shinatatsu Haneda(品達羽田) is located on the 3rd floor(Departure floor) of Haneda Airport International Terminal.
Its location may be a little bit inconvenience since you need to go back to Keikyu-line station after checking in.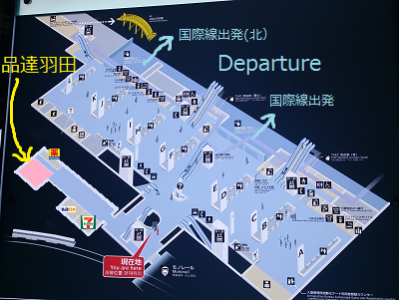 The opening hour is 7:00AM to 11:00PM.
If you like Japanese Ramen and you want to enjoy it before leaving Japan, it is recommended to visit.
Have a nice trip !